7th of November, it can be just another day for anyone and its the same for me as well, but i would like to wish two of my favourite person a very happy birthday and may god bless them with long live.
If you google about the Famous Birthdays you might get a list of westerners of those olden days great people birthday or even hollywood actor or actress'. But the 2 great soul that im gonna talk about are whose birthday is not listed in that particular site, maybe not now or maybe never, hence i would like to share this with all of you.
1st person is our Universal Hero Padmasri Dr Kamal Hassan, the Himalaya of acting in the Indian movie and showbiz. A person whom always strive for the gold medal in everything he does, a real actor who loves arts and acting as much as he loves his soul.
I would say he is the most talented and most biggest gift to tamil film industry because i can bet my last ringgit that no one can perform like he does. Hats off to Kamal ji. and hell yea, i am his big fan!! for more info about him click here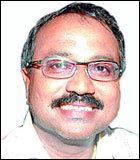 The next hero whom i adore the most and look up is our local hero, Lawyer Mr P Uthayakumar, yes the Hindraf man!!! It's his 47th birthday today and he is not celebrating with his family or loved ones but in the ISA detention center in Kamunting, Perak, Malaysia. He is the man who brought malaysian indians cries to the international attention and brought up the spirit in the indians to fight for the rights. I dont wish to elaborate more on Hindraf. All i can wish is, i hope you will be with us out of the bar with us for your 48th birthday, uthaya sir.
May god bless you, the living legends!!!
p/s: Makkal Shakti supporters are having nationwide birthday prayers for P.Uthayakumar in major temples in most of the states in malaysia. for more info, check here and also here at raajarox